The Third International Summer Camp at DTU
More than fifty Master's degree graduates and scholarship candidates from universities nationwide attended the third International Summer Camp at DTU from August 28th to 30th. The camp was sponsored by the British Council and the Newton Fund, with the assistance of DTU. Speakers included Professor. Duong Quang Trung from Queen's University in Belfast, Northern Ireland, Professor Octavia A. Dobre from Memorial University in Newfoundland, Professor Muhammad Imran from the University of Glasgow, Scotland, Dr. Ha Dac Binh, Dean of the DTU Faculty of Electrical Engineering and Dr. Vo Nguyen Son, a DTU lecturer.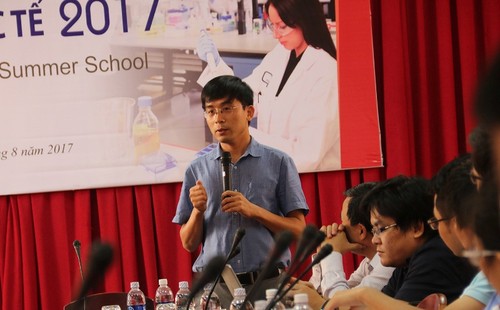 Associate Professor Dr. Duong Quang Trung
Although he is busy teaching and researching, Dr. Trung always finds time to return to Vietnam every year to update students on the latest techniques used in Ph.D. research in developed countries. Dr. Trung and his colleagues organized the camp to help Ph.D. candidates identify Electronics, Communications and IT scholarships in developed countries and learn about application procedures.
Distinguished Teacher Le Cong Co, DTU President and Provost, said: "DTU is one of the 30 private universities nationwide to receive a Certificate of National Education Quality. Research has always been a top of priority at DTU. At this third International Research Summer Camp, we want open up broader opportunities for our Vietnamese researchers, who will then be able to make significant contributions to our country's development, with the knowledge and skills obtained overseas."
Candidates for foreign scholarships were taught about how to gain more knowledge in their special fields and improve their research skills. Professors from the United Kingdom and Canada gave examples of Ph.D. programs and opportunities in their own countries.
Mr. VO Phi Son, a lecturer from the Institute of Science and Technology said: "As soon as I learnt about the 2017 DTU International Summer Camp on Facebook, I submitted my application and was accepted. The International Summer Camp was extremely useful for those of us who want do further studies abroad. Associate Professor Trung and his colleagues have told us how to significantly shorten our scholarship application procedures."
(Media Center)